Experience the Power of Miniaturization: GigaDevice Unveils the Industry's Smallest 128Mb SPI NOR Flash in 3x3x0.4mm FO-USON8 Package
Beijing, China (May 16, 2023) --- GigaDevice (SSE: 603986), a semiconductor industry leader in flash memory, 32-bit microcontrollers, sensors, and analog technology, announces the launch of the industry's smallest 128Mb SPI NOR Flash, GD25LE128EXH, in the ultra-compact 3x3x0.4mm FO-USON8 package. With its thickness of only 0.4mm, the GD25LE128EXH offers designers unparalleled flexibility in designing compact applications, making it the ideal code storage unit for IoT, wearables, healthcare, and networking products that demand high functionality and low power consumption.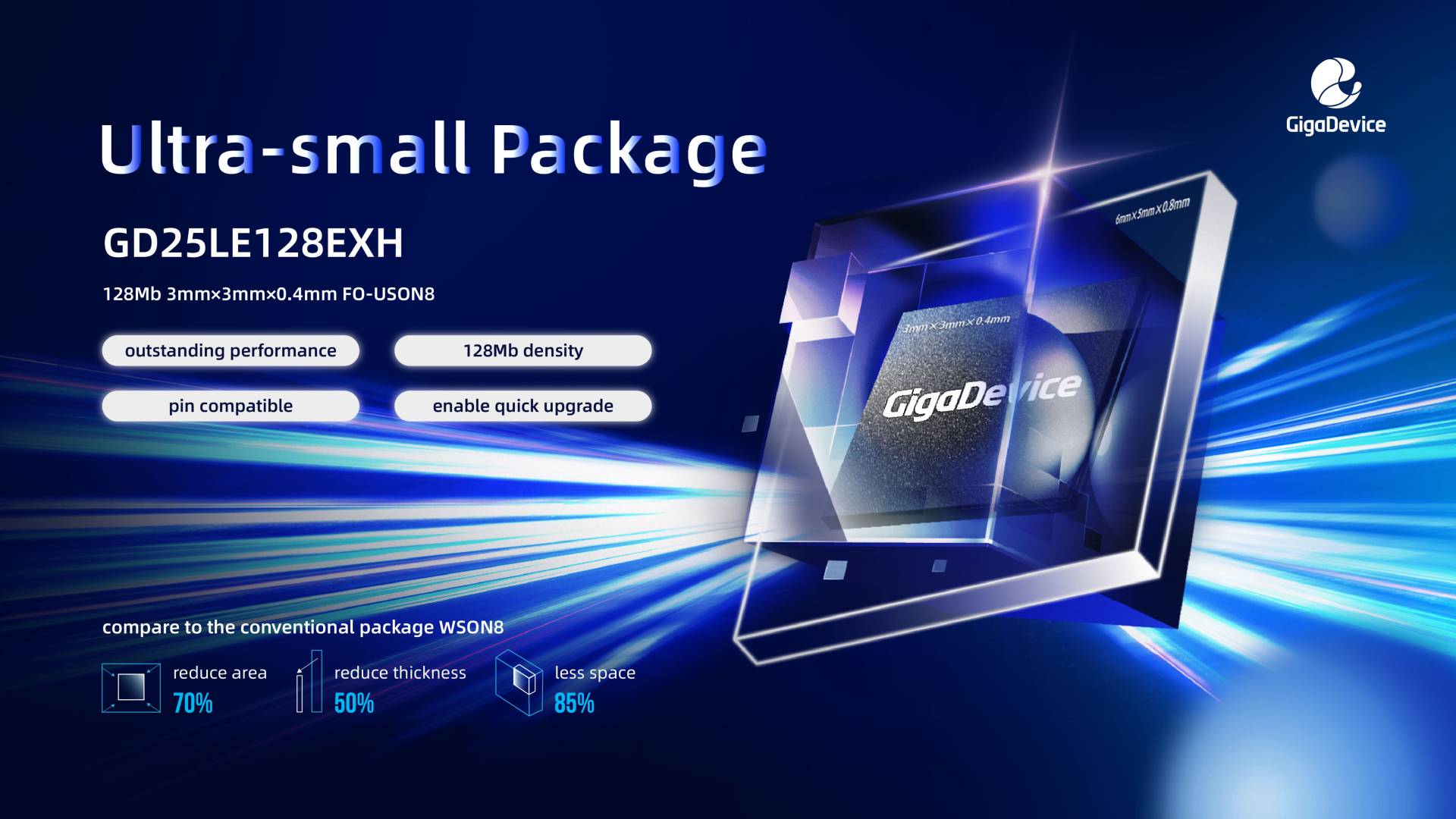 As a flagship product of GigaDevice's low power SPI NOR Flash series, the GD25LE128EXH features outstanding performance, with a maximum frequency of 133MHz and a data throughput of up to 532Mbit/s, significantly enhancing system access speed and instant-on capability. Compared to other industry products, the GD25LE128EXH operates at a lower read current of only 6mA when running at 4-channel 133MHz frequency, reducing the power consumption by 45% and effectively extending battery life. The GD25LE128EXH achieves an ultra-small size for 128Mb products by using the new FO-USON8 package, which reduces area by 70% and thickness by 50%, compared to the conventional 6x5x0.8mm WSON8 package typically used for such products. As a result, GD25LE128EXH takes up 85% less space and reduces material cost.
The 3x3x0.4mm FO-USON8 GD25LE128EXH is also pin compatible with 64Mb and lower capacity 3x4x 0.6mm USON8 products, enabling quick density upgrades to 128Mb without changing the PCB layout.
"As a leading fabless company, GigaDevice not only advocates for innovative technology, but also applies it in practice," said Mike Chen, Executive Director of GigaDevice Memory Business Unit, " Our new GD25LE128EXH, the industry's first 128Mb SPI NOR Flash in an ultra-small package, with its lower power consumption, perfectly suitable for any battery-powered design. We anticipate an increase in demand for high-density SPI NOR Flash that is small and power-efficient, and we are planning to develop a more comprehensive product portfolio using advanced package technology to address such needs in the near future."
The GD25LE128EXH is currently in mass production, please contact our sales and distributors for order information. The 3mmx2mmx0.4mm FO-USON8 GD25LE64E will be expected to provide samples in the end of May, contact our sales to get more details.
About GigaDevice
GigaDevice Semiconductor Inc. (SSE Stock Code 603986) is a global leading fabless supplier. The company was founded in April 2005 with branch offices in many countries and regions worldwide, providing local support at customers' fingertips. Committed to building a complete ecosystem with major product lines – Flash memory, MCU, sensor and power as the core driving force, GigaDevice can provide a wide range of solutions and services in the fields of industrial, automotive, computing, consumer electronics, IoT, mobile, networking and communications. GigaDevice management system has achieved ISO 9001:2015 and ISO 14001:2015 certification. Constantly looking to expand the technology offering to customers, GigaDevice has also formed multiple strategic alliances with leading foundries, assembly, and test plants to streamline supply chain management. For more details, please visit: www.gigadevice.com
GigaDevice, GigaDevice logo are trademarks, or registered trademarks of GigaDevice Semiconductor Inc. Other names and brands may be claimed as the property of others.