GigaDevice's Industry-Leading Automotive Flash Memory Achieves 100 Million Units Shipment Milestone
BEIJING, CHINA, 14 April, 2023 - GigaDevice (SSE: 603986), a semiconductor industry leader in flash memory, 32-bit microcontrollers (MCUs), sensors, and analog technology, proudly announces the milestone of shipping 100 million units of its leading automotive-grade (AEC-Q100) GD25/55 SPI NOR and GD5F SPI NAND flash series. Those automotive flash memories are used widely in smart cockpits, advanced driver assistance systems (ADAS), smart networking, and battery, motor, and electronic control systems for new energy vehicles. This significant milestone underscores GigaDevice's close working relationship with critical automobile manufacturers and Tier-1 OEMs, with proven products and endorsement in the field. GigaDevice is committed to delivering highly reliable and secure automotive flash memories to its customers in a full range of voltages and densities.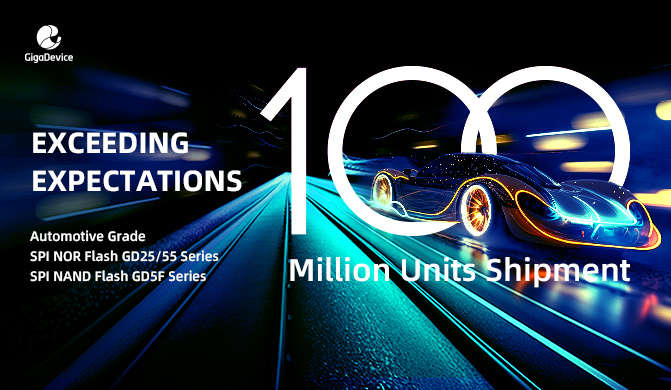 Comprehensive Product Portfolio
With the rapid development of autonomous, connected, and new energy vehicles, automotive electronic system design in compact spaces brings increasing challenges. Automotive designers require memory solutions providing high reliability, security, high density, and fast response in code storage. GigaDevice's automotive flash lineup offers 2Mb to 4Gb density, 400MB/s data throughput, RPMC security functionality, ECC algorithm and CRC checksum features, and 100,000 P/E times with 20 years of data retention in compact packages. This comprehensive portfolio provides a one-stop shop for automotive applications.
Stringent Quality Management
Quality is the cornerstone of GigaDevice. Quality system building and continuous improvement is the essential way to success. From R&D to production, every product has undergone rigorous testing before customer delivery. GigaDevice is committed to the promise of providing high-quality products to customers worldwide by implementing zero-defect quality control into every process.
Robust Supply Chain and Support
GigaDevice, as a fabless semiconductor company, offers enhanced flexibility to Tier-1 OEMs and automobile manufacturers as they develop electric vehicles as a critical future growth path. GigaDevice provides best-of-class supply chain management to global automotive design centers that depend on support across all regions.
GigaDevice has been engaged in the automotive segment since 2015. The company's GD25/55 SPI NOR and GD5F SPI NAND flash series achieved AEC-Q100 certification in 2019 and 2022, respectively. After nearly a decade of technological innovation and quality management improvement, the 100 million units shipment milestone represents GigaDevice's unwavering commitment to the automotive memory market. GigaDevice will keep innovating to add value and assist in solving our customers' challenges.
About GigaDevice
GigaDevice Semiconductor Inc. (SSE Stock Code 603986) is a global leading fabless supplier. The company was founded in April 2005 with branch offices in many countries and regions worldwide, providing local support at customers' fingertips. Committed to building a complete ecosystem with major product lines – Flash memory, MCU, sensor and power as the core driving force, GigaDevice can provide a wide range of solutions and services in the fields of industrial, automotive, computing, consumer electronics, IoT, mobile, networking and communications. GigaDevice management system has achieved ISO 9001:2015 and ISO 14001:2015 certification. Constantly looking to expand the technology offering to customers, GigaDevice has also formed multiple strategic alliances with leading foundries, assembly, and test plants to streamline supply chain management. For more details, please visit: www.gigadevice.com
GigaDevice, GigaDevice logo are trademarks, or registered trademarks of GigaDevice Semiconductor Inc. Other names and brands may be claimed as the property of others.